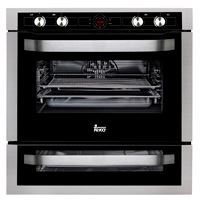 To whichever brand we choose as the best cheap oven for baking, we only need a mouthwatering home-cooked meal coming straight out of the oven. But once cooking is done and we consume our meal, this is the time when we need to clean up the mess. During baking, we would have seen dishes leaving behind sticky messes or burnt up marks. This requires some extra time to remove the grease. The cleaning method we always recommend is using white vinegar with a baking soda. Here, our experts will guide you how you can bring shine and sparkle to your baking oven:
Step 1: Collect all Supplies
First of all, you'll need a bowl, spoon, baking soda, vinegar, measuring cup, aluminum foil, clean paintbrush, rubber gloves, a spray bottle and a clean towel or sponge.
Step 2: Plug out Baking Oven and Make it Empty
After wearing your rubber gloves for protection, remove all racks and cooking ware from your baking oven. You can use aluminum foil to fill any opening(s) so that your cleaning mixture won't penetrate them.
Step 3: Create a Cleaning Paste
Take a bowl and mix one cup of baking soda with one-third cup of warm water. Stir well so to create a consistency like a paste. In case if there is a bigger oven for baking, then you may need a large batch for making a paste or slightly increasing the quantity of water so that the paste can be more spreadable. You can manage the mixture as per your needs.
Step 4: Spread the Paste in the Entire Oven
By using a new paintbrush, you can spread the mixture evenly all inside the interior of an oven. Make sure not to spread the paste on any of the heating elements. Let the paste stay for overnight or at least ten hours.
Step 5: Clean the Racks of the Baking Oven
While the mixture is still inside the oven, you can place the oven racks in a sink for washing. Drizzle baking soda all over the racks. Take a small quantity of white vinegar and pour it into a spray bottle. Spray the racks fully with a vinegar. Dunk the racks in warm water and let them sop up overnight or at least ten hours.
Step 6: Clean Mixture Away
Once leaving the oven overnight, you now need to remove the dried up baking soda with a damp towel or cloth. You can also use a wooden or plastic spatula to remove the paste easily.
Step 7: Use White Vinegar to Spray and Scrub the Oven
You can use white vinegar to spray in the oven. Make sure to cover the griddle openings with aluminum foil while completing the cleaning process. Now, using a sponge, you can clean the inside of the baking oven so to remove any remaining burnt-on stains and residues of the baking soda.
Step 8: Clean the Oven with a Damp Towel
You can mop up the inside of an oven with a damp towel or a sponge or cloth. Repeat this step unless the oven is completely clean. In the end, use a dry towel to give a final dry mop to the oven.
Step 9: Clean Oven Racks
Use a sponge to wipe clean any remaining residues and let the rack be dried up with a towel or air. Now, place them back inside the oven.
Whether you are planning to buy the best cheap oven for baking or using an existing one, make sure to follow the above useful tips in order to increase the life of the oven.
For more details and queries, you can call us on 0340-1111-444.