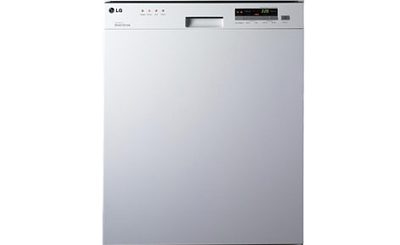 Have you ever experienced an awful smell when you have just entered the kitchen? It's most likely the disgusting odor which is coming from your dishwashing machine. To whichever best dishwasher brands you checked while making a purchase, you should know how essential it is to clean a dishwasher at times so you don't have to face stinky situations.
If you have bought your favorite LG dishwashing machine but you are not sure how to clean it appropriately, you don't need to worry about it. Its cleaning process is just super simple.
All dishwashers have a standard height and width. Due to this reason, it is easy to load the machine with slight bending. Almost all dishwashers provide the quickest washing. LG dishwashers are compact which is ideal for users having the least amount of dishwashing activity.
Below, our experts will provide some of the best tips to clean your dishwasher:
Clean the Filter
Remember that just like other appliances, the filters in the dishwasher also get clogged with bacteria, food particles and dirt. Before starting focusing on cleaning your dishwasher, you need to start it from scrubbing the filter. Make sure to unplug the dishwasher so to prevent any accident. Remove the cutlery basket and elevate the access panel. This panel is located right above the filter in most dishwashers. What you need to do is pulling the filter to clean it out. You can wash it by using a scrub brush so to remove any dirt build up if needed. We'll suggest you clean the filter every month so your dishwasher can work efficiently.
Drizzle the Spray Arm
You need to draw out the bottom rack so the spray arm can be fully accessible. Once accessible, elevate its arm out gently and clean it carefully. You'll find some small holes in the spray arm which emits water to clean the dishes and other tableware.
Make sure to check these holes thoroughly. This is so because if these holes are clogged, then your dishwasher won't be able to clean the dishes. You need to wash the spray arm under the kitchen spout and anything blocked will just flow away. Once washing is done, you can put everything back in a way it was prior to cleaning the spray arm.
Decontaminate the Dish Drawer
To sanitize the dish drawer, white vinegar works as a magical tool. It has the potential to sanitize due to which it is the best cleaner for your unclean dishwasher. You can clean your LG dishwasher by simply putting a bowl containing a few cups of white vinegar in the middle of the dishwashing machine. Run a normal wash cycle without using any detergent. This will help the white vinegar to get dispersed all through the machine. It will make the dishwasher smell good and look like new.
In order to check the best dishwasher brands, you can visit our online store. Our professionals will show and guide you on how a dishwasher can benefit you in different ways.
For further details and queries, you can call us on 0340-1111-444.