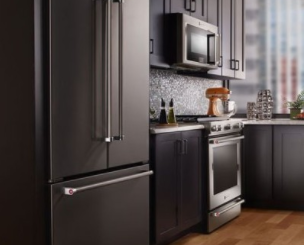 Either it's a small or big kitchen, we know how much style is important in its look and feel. Nobody will ever want to invest its time and money to buy home appliances online that just work but don't enhance the kitchen's aesthetics. In reality, all home and kitchen appliances should work while enhancing the kitchen style.
When it comes to redesigning the kitchen, Rays home appliances provide you the combination of best. It means that it provides high quality products that also do a great job of getting chores done on time.
For kitchen remodeling, all our Rays appliances are available in black and/or silver finish. These products can conveniently meet everyone's needs. Here, our experts will provide some reasons as to why you should select Rays appliances for your kitchen:
Matching Game
Either you are changing one kitchen appliance or planning to replace all of the kitchen appliances after redesigning it, you need to make sure that all products should match. No one will ever want a kitchen which looks like topsy-turvy or mismatched.
So, you need to emphasize the color and theme of your kitchen. Black and/or Silver finishing is a chameleon color since it can easily blend into any kitchen, irrespective of what the rest of the products look like. For cabinets and floors too, Black and/or Silver can perfectly fit with whatever style you have opted to center the kitchen space.
If you are constructing a new kitchen, Black and/or Silver can provide a good base to make a start. From here, you can decide on how to develop the rest of the kitchen aesthetically.
Fingerprint Resistant
With Rays home appliances, color possibilities are not the only benefits that you can get. In fact, you can focus on numerous functions available in these appliances. These products help a great deal in improving your quality of life. Now, you don't need to sacrifice style for quality and functionality.
When it comes to the best oven for baking cakes, Rays double wall oven provides you a range of options involving huge baking capacity with a convection feature. Besides black and/or silver finish and varied features, Rays home appliances are fingerprint resistant. It means that you don't need to waste your time cleaning up your appliances.
So, if you are going to upgrade your kitchen and planning to buy home appliances online, then Rays kitchen appliances are where you can make a start. For this, you can visit our online store. Our appliances' experts can greatly help in figuring out the kinds and brands you need for appliances that can go well with your renovation. Moreover, you can select your favored home appliances that can meet your budget as well as your unique needs.
For further details and queries, you can call us on 0340-1111-444.