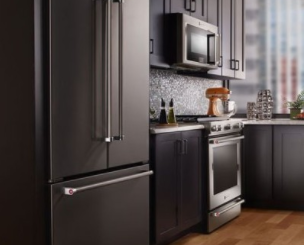 If you are shifting to a new house and planning to buy home appliances online so to set up a new kitchen, then there is a list of appliances that you must buy.
For your ease, here, our experts have listed indispensable home and kitchen appliances for your new home's kitchen:

Microwave Oven
One of the most essential appliances for any kitchen is a microwave oven. If you love making different recipes for your family, then this appliance can greatly help you in microwave cooking or baking.
In today's busy schedules, everyone prefers faster and hassle-free cooking. Oven microwaves aid in cooking, baking or reheating edibles in seconds. So, you must add this appliance in your essential kitchen items list.
Food Processor, Grinder and Hand Blender
From grinding spices to extracting juices, blending ingredients or making purees, grinder, hand blender and/or food processor are widely used all across Pakistan. These appliances help in cooking at a faster rate without compromising the taste. So, these items should be available in every kitchen.
Kitchen Cooktop
In order to save your valuable time, gas kitchen hob has been designed in a way that makes cooking much easier and efficient. Depending on the family needs, you can select single or multi burners' cooktop.
On Al-Fatah Electronics, you can find a wide range of kitchen cooktops available in different brands like Siemens, Teka, Fotile, Rays and much more. You can choose any brand and number of burner(s) that fits your budget and family needs.
For the ones who love baking, they can go for a cooking range or a baking oven. They are also available in different sizes and brands that can suit everyone's requirements efficiently.
Fridge and Freezer
These days, refrigerators are more than just refrigerating the edibles. Fridge and freezers help in keeping dairy products, fruits and vegetables fresh for a longer time. You can even preserve the leftovers in order to avoid food wastage.
On our online store, you can find a huge range of refrigerators available in different types like top mount, side by side, small size, upright freezer and much more. You can easily choose the one that meets your family needs.

Water Dispenser
A water dispenser is becoming one of the greatest needs of every kitchen nowadays. In metro cities, it really seems unbelievable to have a kitchen without this household item. Since it is getting challenging to get clean and safe drinking water, water dispenser cooler helps you to get pure drinking water by using a mineral water bottle.
Kitchen Hood
In countries like Pakistan, we are more inclined to consume oily and spicy food. Kitchen hood helps a great deal in eliminating steam, odor and grease when you are cooking. Moreover, it provides appropriate ventilation while removing hot and unwanted air.
On our online store, you can find a wide array of kitchen hood in different sizes, brands and design. You can select the one that enhances the kitchen style.
Rice Cooker
Due to busy schedules, it's getting challenging to cook food at home. We all need appropriate appliances that can cook food efficiently and deliciously. Rice cooker provides a complete solution by cooking rice at a faster rate while keeping its taste.
Sandwich Maker and Toaster
For professionals or business owners, it is challenging to prepare breakfast in the morning. Sandwich maker and toaster help in preparing breakfast and lunch as quickly as possible.
Air Fryer
If you are intending to reduce weight, then you should think of purchasing an air fryer. This helps you prepare a nutritious meal without compromising the taste. So, you must include an air fryer in your kitchen items' list to stay healthy for long.
When considering to buy home appliances online for your new kitchen, make sure that you should have all the above essential items in your kitchen. These appliances will let you live a comfortable life.
For more details and queries, you can call us on 0340-1111-444.