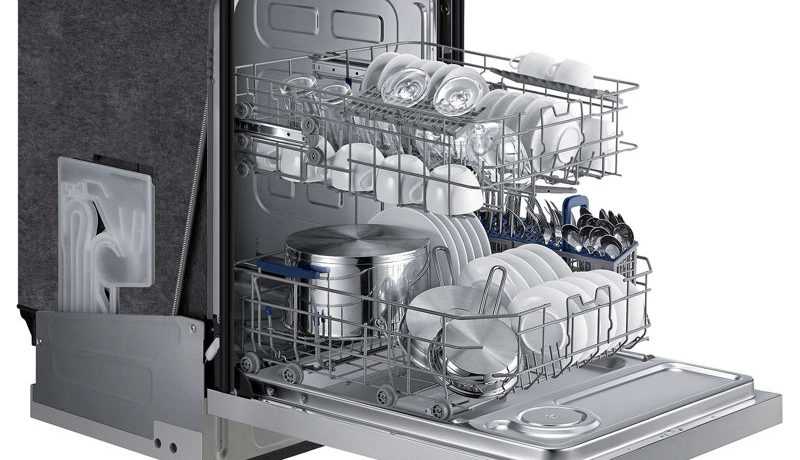 While washing dishes, most of us just simply throw dishes in the dishwashing machine. After this, a small quantity of soap is added and then hit the Start button. But do you know that there are some basic steps that you should follow before running your dishwasher and between the dish washing so that your machine can run efficiently? When looking to buy dishwasher online, make sure that you know all those important points. With this information, you can increase the performance of your dishwasher:
Always Keep Your Dishwasher Clean
To whichever brand you are opting for a dishwashing machine, almost all dishwashers have four spray nozzles in the upper rack. These nozzles can be placed inside bottles and tall glasses so to clean them fully. The first useful tip is to always have a clean dishwashing machine. It may sound weird as to wash the dishwasher, an appliance that washes dishes itself. But it's the fact. Food debris, grease and soap crust can be formed inside the dishwasher which may give a breeding ground to germs. It's obvious that an unclean dishwasher will not clean the dishes perfectly. Instead, dirt and debris can lessen the efficiency of your machine.
In order to clean a dishwasher, you need to use a good quality dishwasher cleaner. You can put the cleaner in the washing compartment of the detergent dispenser. It can also be put in the bottom of the dishwashing machine if you are planning to wash your dishes simultaneously. Once adding the cleaner, choose a cycle which can clean heavily greased and soiled dishes and then hit Start.
If you are situated in a region where hard water is in use, then you would know that hard water minerals create a white film on the dishwasher, particularly inside the door. To clean this layer, you need to use a damp cloth with a liquid dishwasher detergent.
Analyze the Temperature of Water Heater
To get perfect dishwashing results, you need to set the temperature of water to 120˚F when it enters the machine. We all know that hot water quickly liquefies the dishwasher detergent. This mixture helps in dissolving the grease stick on the dishwashing machine, thus making the dishes spot free.
Keep in mind that if the temperature of the water is too low, it won't wash the dishes and pots well. Likewise, if water is considerably hot, some of the ingredients in detergents may not function properly and dirt or spots may not be removed appropriately. To set the right temperature of your dishwasher, you need to turn on the stopcock positioned near your dishwashing machine. You can place a thermometer in a cup beneath the stopcock. Allow water to run into the cup till the temperature stops intensifying. If you find that the temperature isn't around 120˚F, you need to regulate its water heater.
Check Water and Use Water Softener
If you are residing in an area where hard water is in use, then remember that it can leave spots on your dishes. To let your dishes sparkle, you can think of installing the water softener. Water softener allows your dishes to come out clean and shine like new while it extends the life of the dishwashing machine.
While planning to buy dishwasher online, make sure that you know all the useful tips with which the efficiency of your dishwasher can be enhanced.
For further details and queries, you can call us on 0340-1111-444.