About Us
Al-Fatah Electronics is the one of the best home appliances store in Pakistan who started its journey back in 1981. The company has hands on experience when it comes to dealing in home appliances and consumer electronics of all leading brands, with competitive prices, biggest variety and excellent customer service. We have both brick-and-mortar stores and online platform to provide ease to the customers. We have been regularly introducing brands like Haier, Gree, Dawlance who are market leaders today. We directly deal with over 200 brands just to make sure that customer is getting 100% genuine products.
We have 10+ stores in Lahore along with an online platform which entertains customers from all over Pakistan. Our range of products exceeds 20,000 appliances that are available for the customers nationwide.
We can easily say that we are providing the best prices but we believe that we are not just providing best prices but we also provide 100% genuine products along with quality after-sale services as we keep our customers updated and we are always ready to go one-step ahead just to make sure our customer has an ultimate shopping experience.
Our Vision
To provide our customers the best online buying experience from start till the end; be the part of ongoing E-commerce revolution in Pakistan and we intend to do this by giving best variety, price and convenience to our customer.
Our Mission
Using our 40+ years' experience to provide one-stop solution to our customers; in-stores and online by providing 100% genuine products at best prices along with quality after-sales services to our respective customers.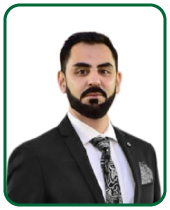 Hamza Jamshaid
With the experience of more than 15 years under his belt. He has been a mastermind behind incredible sales growth in recent years but still pushing to achieve new milestones.
Sheikh Jamshaid Iqbal
Being in the industry for more than 40 years and pioneer of retail of home appliances in Lahore. He has won various industry awards in the process. He believes in enhancing the lifestyle of the people by providing them the best quality appliances at affordable prices.
Mustafa Jamshaid
Mustafa Jamshaid is a business graduate from LSE. He has added a new dimension in the business by focusing more on the online platform and product development that have resulted in exponential growth of our online marketplace.