A deep freezer is a vertical refrigerator used to store frozen food. Generally, these are rectangular or cube-shaped, with lids or lift-up doors that open from the top. Deep freezers have a large storage capacity, ranging from 100 to 510 liters. Their cubic feet capacity ranges from 10 to 25. Their depths make it difficult and uncomfortable to obtain their content, even if they may hold enormous and unusually shaped objects. In most deep freezers, there are no shelves. Although, there are models with wire racks, baskets, and compartments gliding backward and forward along a rail. Some feature storage drawers for meals and other objects at the bottom of the cabinet. Food is kept frozen for a very long time in deep freezers, which preserve food at a temperature of 18°C (0°F). Additionally, they use less energy because they don't lose as much cold air when opened and have strong side-wall insulators that can keep them chilled for an extended period.
The Deep Freezer to purchase for Eid-ul-Adha 2022
These days' extreme weather conditions, including sweltering heat and high humidity levels, make it challenging for humans to survive without access to fresh food. In this climate, the development of microorganisms that cause food to spoil is encouraged. And speaking of food, Eid-ul-Adha, the largest food occasion, is about to start. Eid-ul-Adha brings with it plenty of happiness, meat, and divine favors. Space is needed to keep the luscious flesh stored. It might not be enough to have your mini freezer on top of the fridge. There must be a lot of storage. Why not the deep freezer?
Compared to a fridge freezer, the advantages of a deep freezer are that it has a higher capacity, is more energy-efficient, and can keep a steady temperature. You can get a cheap deep freezer with a longer lifespan. But the question is: What deep freezer should you purchase in 2022? Following are basic styles of a deep freezer with various purposes.
Chest Freezers
The chest-deep freezer is the most affordable type of freezer. It has this name because it resembles a huge box or chest and has a lid with a hinge that opens upward. To accommodate its frequently large size, a chest freezer can be positioned in a kitchen alongside the primary refrigerator unit or in a garage or utility room. Chest freezers are available in sizes, from tiny, 2.1-cubic-foot devices to big, 40-cubic-foot commercial machines. The chest freezer's huge, boxy dimensions are perfect for keeping big things that usually do not fit well in the freezing compartment of a refrigerator. The lack of a fan in chest freezers restricts air circulation and results in variable temperatures, but as long as the temperature is kept below freezing, there won't be any detrimental effects on the food. The majority of chest freezers contain baskets to help divide the space more neatly. These can be used to store smaller foods for simple retrievals, such as pre-cooked dinners and bags of frozen veggies.
Drawer Freezers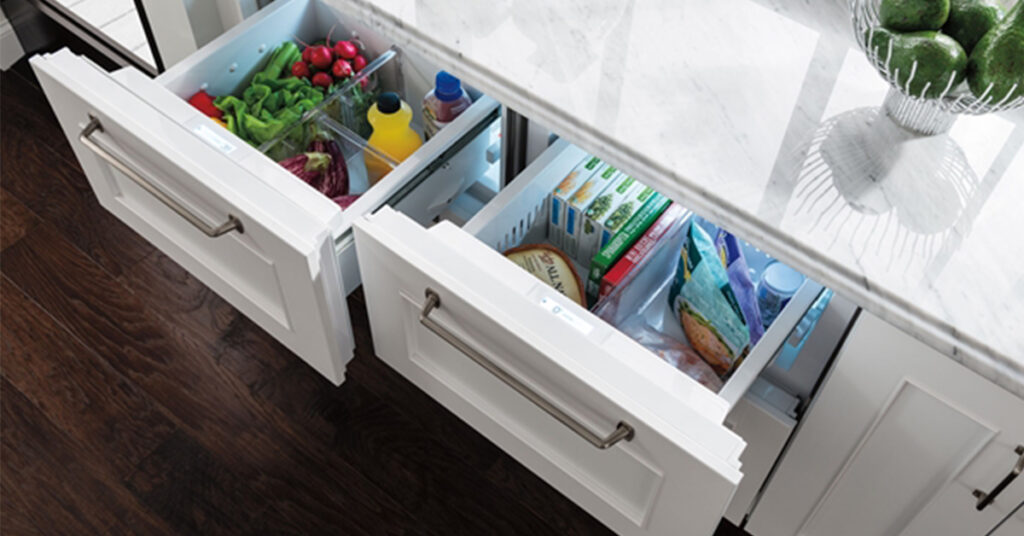 Drawer freezers are convenient for catering and domestic use. They maintain the items in top condition. For the convenience of the cook who wants to have specific ingredients close at hand while making meals, drawer freezers are often seen in bigger kitchens or gourmet kitchens. Drawer freezers can be custom customized to fit the cabinetry or come in a range of finishes, such as stainless steel, to complement the other appliances. A lot of drawer freezers are cabinet height. They can be placed effortlessly into existing cabinetry. Some even have a completed top so they can expand the countertop area in the room where they are being used. The cost of drawer freezers is a significant disadvantage. They are entirely pricey and inadequate as a full-size freezer. Check out deep freezer price and buy one according to your needs.
Upright Freezers
The convenience that an upright deep freezer offers more than justifies the little price premium over a chest freezer. There are three basic types of upright freezers. Standalone freezer, stacked fridge freezer (with the freezer either above or below the refrigerator), and American-style side-by-side freezer. An upright type is ideal for freezing goods that you need to be able to access quickly, whether it is kept in the leading kitchen or the garage, laundry, or basement. As with a chest freezer, there is no need to crouch down and sift through mounds of frozen food. It can be inefficient to spend more time looking through shelves with a refrigerator-like design, although the shelving's organizational capabilities can reduce the likelihood of this happening. Since upright freezers typically have automatic defrosting, they are significantly uncomplicated to maintain and clean than chest freezers.
Portable Freezers
Transporting perishable items is now possible without the clutter and trouble of an ice-filled cooler, thanks to the development of portable or small deep freezers. Some even come with cables that enable them to be charged by a car's cigarette lighter plug. Portable freezers can run on AC, DC, or both. It makes food storage for outside activities like picnics, boats, football games, and other outdoor activities safer, more practical, and less likely to spoil. They are ideal for small offices and may be positioned in any room's corner because they take up little space.
Verdict
Due to its size, high energy efficiency, and capacity to keep food frozen for an extended period, a chest freezer is more practical in a kitchen. However, your needs and living circumstances will determine how useful various freezer models are. A chest freezer will be more practical if you keep a lot of prepackaged items on hand, such as meat and seafood, as it will reduce the number of trips to the shop and preserve your food for longer than an upright type. However, a fridge freezer will be a superior option in your kitchen if you don't cook frequently. Find the deep freezer for sale that meets your needs. Thanks to the broad choice of sizes and types currently offered.