When you are living in a hot area of a country like Pakistan then AC is the most ideal option to beat the warmth. Many excellent Air conditioners in Pakistan are giving acceptable quality AC. However, numerous individuals don't prefer AC as a result of the high power costs. To defeat this problem now all electronic companies are making invert Air conditioners. Now you can enjoy the cool wind of AC at least costs. Here there is another issue that lies ahead. What is the best inverter AC in Pakistan that would be better to purchase because there are numerous kinds of AC and every company is creating a new AC style and design version every year with slight changes? Below the list of 5 best inverter AC in Pakistan that you can use this 2021 year.
Best Inverter AC in Pakistan 2020
1- Samsung Wind free inverter Air Conditioner:
One of the best inverter AC in Pakistan is the Samsung. It name wind-free is because it doesn't continue to give cold wind flow like other inverter AC do yet it will hinder the cold air when it detects the temperature of the room is steady and continue to give ideal air so you don't feel cold. It will cool your room quicker than some other AC brand. Like different brands, you will also get full admittance to your AC on your handset.
Besides, its features have an extraordinary filter with reducing any type of microorganisms like virus or bacteria to 99%. You can undoubtedly detach the filters and clean them without damaging any piece of the AC. The AC is power saving. You can enjoy this AC a lot.
2- LG Titan Inverter AC :
This inverter AC is launched by LG Company. LG Titan Inverter AC provides 60% saving on your electricity as many inverter air conditioners provide. It has double defensive filters to filter the dust and provide new and fresh cool air in the room. This inverter AC doesn't have the Wi-Fi framework that numerous different companies are giving.
However, it is still worth it great. It can through the air up to 10 meters and its jet cooling features empower the quickest cooling besides, it has the old fin system. If you are stressed over the clamor, then this one is for you since it has an excellent feature of ultra-low noise performance. You can purchase this because it is one of the best inverter AC in Pakistan which is electric-saving at the optimum cost.
3- Kenwood e Sleek Inverter :
The inverter AC which is catching individuals' eye attraction is Kenwood e Sleek Inverter . That's why this inverter AC is also on our list of the top 5 best inverter AC in Pakistan. This AC inverter provides a 60% saving on your electricity. The design of this Air Conditioner is such that it adds beauty to your room.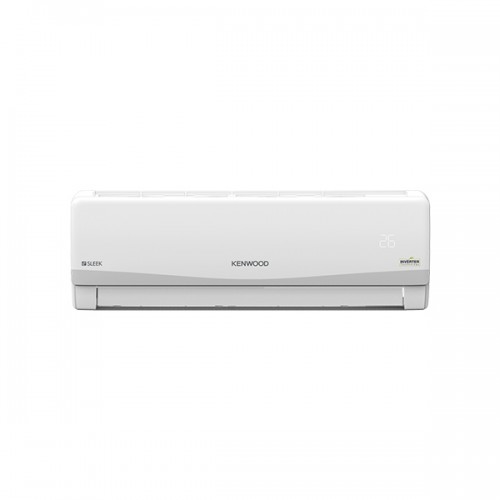 The style of this inverter AC is unique ad simple however it is a rich device. It has a blue fins condenser and both warming and cooling capacities. You will get a five-year guarantee if you purchase this AC. Additionally, it has a 4D Airflow system and high detected anti-fungus system.Get your AC now….
4- Mitsubishi Inverter Series inverter AC :
Mitsubishi is a famous Japanese company. This inverter AC is the best illustration of an inventive product. It is simple and intuitive which keeps going longer. You will get a 1-year official guarantee from the company. The weight of the Mitsubishi inverter series HJ50VA is 36 KG and it runs on a 220-240V. The cooling capacity of this inverter AC is also18000 Btu/h however the cost of this AC is somewhat high when contrasted with other best inverter AC in Pakistan because of its wide features and specifications.
Its air filter has high detected anti-fungus and anti-allergy and the platinum filters protect against bacteria and other microorganisms. Additionally, it also has a quiet innovation that decreases the sound or clamor of the AC to 40DB in the indoor and 50DB in the outdoor. This wonderful machine is accessible only in white Color.
5- Dawlance Inverter AC :
The reliable, economical, and best inverter AC in Pakistan is Dawlance Company. The Dawlance Inverter Cruise Pro 30 is a very excellent innovation. You can purchase this inverter AC at a low price. It has a self-cleaning evaporator as we find in the Haier Air conditioners and it will save you 30,000 rupees yearly.
Dawlance Inverter Cruise Pro 30 has an auto beginning feature as most inverter AC has. It also has a hidden display property. It looks very simple but yet worth purchasing inverter AC. The 100% copper pie expands the productivity of this inverter AC. Besides, it additionally has a wide range of voltage and can run from 150V to 260V. The design of this inverter AC is very cool and makes it reasonable for any room plus has the greater indoor for longer air throw.