There is nothing more central to a home than the kitchen. A cook stove is an essential piece of kitchen equipment. The correct cook stove allows you to keep your kitchen functional while also creating some delectable foods. If you're building a new kitchen or remodeling an old one, you'll have two options for cookstoves: freestanding stoves and built-in hobs. Both categories offer a multitude of possibilities; the efficiency and convenience of use of each cook stove are determined by the model you select. Get the finest offers at the lowest rates when you purchase gas cooker and hob products.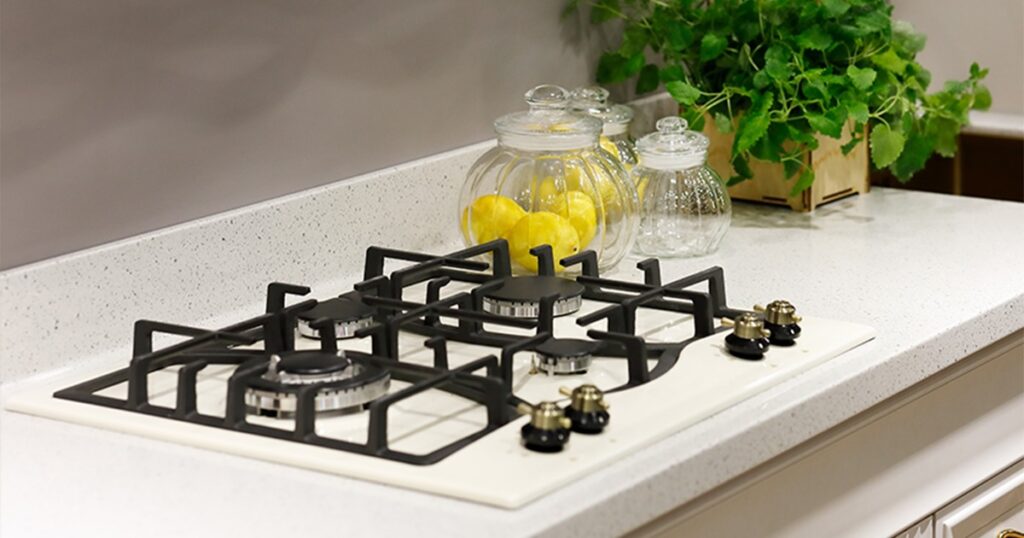 A cooktop fitted into a cavity in the countertop is called a hob. Modern hobs have a ton of functions and are growing in popularity among house-makers of all ages. These gas hobs are not only attractive and have a variety of features that make cooking uncomplicated, but they are also simple to clean. You can choose more wisely if you understand the built-in hobs, which is what this post is here to do.
Design of a Built-In Hob
By being leveled at the same height as your kitchen countertop, a built-in hob's design gives you a smooth, integrated appearance. The electrical and gas connection pipes and wires are cleverly hidden to give your kitchen a contemporary appearance. Burners for a built-in hob are mounted to a flat surface of stainless steel, glass, or ceramic. Cast iron burners with an enamel coating are now available on the newest stovetops.
Any kitchen's aesthetic appeal is improved by hobs. They are a good alternative for small kitchens because they can easily fit in areas with limited space. Before construction, decide on the best gas hob brands and the top style. You can design your countertop based on the model you select. It is also crucial to ensure that the location you decide for your hob top is accessible to a gas supply.
Installation
Cutting a portion of the countertop according to the hob's size is necessary to fix a hob. Before the kitchen countertop is installed, you must choose the type of hob you want to use so that the cut-out will be the ideal size for the hob you select. By doing so, you can guarantee that the hob will be set up quickly when your kitchen is finished, allowing you to get cooking right away.
Gas pipes for a built-in hob are hidden, giving the kitchen a clean, seamless appearance. These hobs are ideal for small kitchens because they don't appear bulky. The built-in hobs include a pulse ignition technology that requires turning the control knob to light the burners; a lighter or matchstick is not required.
Ease of Use
Built-in hobs are made in such a way that they should simplify daily cooking. Hob tops are convenient for you or any home that has to prepare a variety of dishes. Hob tops, unlike standalone gas stoves, are level with your countertop and allow you to efficiently transfer large pots or pans that are full with food from the burners to the pot support or stands. A moist cloth is all that is required to remove spills and filth from the surface of a stove, making cleaning a hob top simple. Higher-end models have rubber gaskets installed around the knobs to stop water from seeping in while being cleaned.
Sizes
Hobs are available in different n sizes, including three, four, and five burners. Even six burners are available in some premium versions. You can select one following your culinary preferences and household demands. One of the significant options for multitasking is a 3 burner gas hob since it gives you three nearly equal-sized burners for cooking. As a result, you will be able to complete your cooking work much more quickly. 5 burner gas hobs are perfect for those who love stir-fried food. A five-burner cooktop will feature four burners, one in each corner, and one huge burner in the center. Since the central burner is grounded, heavy pans can be supported with ease. A five or six-burner stove makes it simple for a big family to prepare multiple dishes at once.
Cost-Related Effects
In-built hobs cost far more than conventional cooktops. Glass finishes are more expensive than stainless steel ones. Although both options are attractive, the glass surface will not be as easily scratched as stainless steel. Search our cheap gas hobs to buy one according to your needs.
Purchasing Advice
The sizes and finishes of built-in hobs range from 2 to 5 burners and include glass, ceramic, and stainless steel. The surface of the built-in hob is heat, scratch, and stain-resistant. These ranges come in both gas and electric versions. A wide range of cutting-edge features, including warnings and automated shutting off once the meal is ready, are available. The majority of built-in hobs are equipped with a Flame Failure Device that shuts off the gas supply if the flame goes out for any cause and stops any gas leaking. Hopefully, you have a thorough understanding of the built-in gas hobs. AL-Fatah electronics is the company that sells high-quality and best gas hob in Pakistan. Visit the AL-Fatah website if you want to evaluate the cost and other characteristics of standard hobs at a reputable online retailer.